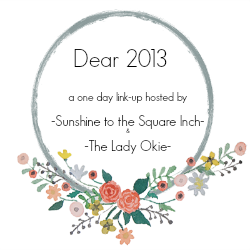 And once again, Christmas has come and gone, which means we can start getting back to normal life, I suppose. I took yesterday and today off because I knew that after two days of traveling and being surrounded by 378 people at all times, I would definitely need some time to myself. Christmas itself was fine. On Christmas Eve, Levi came over and we baked and wrapped and hung out until way too late. I was once again reminded that I suck at wrapping presents, and that I need to only buy legit, nice, wrapping paper because otherwise, I am even worse of a disaster than usual. Speaking of disaster, I went to Target on Christmas Eve to pick up a few things, and while Target was not a hot mess, I spent 25 minutes wandering the parking lot looking for my friggin' car because apparently, I lost my mind between parking it and checking out of Target. Then, because I was a moron, I missed going to Wegman's before they closed, so I couldn't get potatoes, which is why I ended up at CVS on Christmas Eve. Pro-tip: Don't go to CVS on Christmas Eve.
Side note: CVS does not have potatoes, obviously, but they do have milk and cheese, and when you can't make mashed potatoes to go with your meatloaf, you can make mac and cheese and sometimes, you have to go to CVS to get milk and cheese to do so. Except that then you'll get home, and you'll realize that you had cheese in the fridge already...
Side side note: The cheese I got wasn't even cheese because it's Kraft Singles, and as Alia taught me, American cheese isn't actually cheese and isn't legally able to be called cheese, and must be called "processed cheese product" or something equally disturbing.
ANYWAY, now that we've done random tangent, I can get back to Christmas. (Side side side note: This tangent has been approved by Alia.)
Christmas morning, we went to my mom's and ate bagels and opened presents and generally had a nice time. Ken and I left around 1 to drive to Queens, which I thought would be horrible, but I fell asleep, so if it was, it didn't particularly affect me. We got to Ken's uncle's house and I was immediately greeted by 284 loud Italians. They're all extremely welcoming and nice, but man... they are loud. And that house was tiny. Overall, it was a fun time, the food was good, and the people were nice... but I was definitely glad to escape after dessert. We headed to Ken's aunt's house to spend the night, and it was gloriously clean and quiet. Ken, Lynn, and I opened presents from each other (and Ken's mom) and hung out for a bit... and then went to bed. The morning of the 26th, I slept in until 11 because I could, and then we went to Ken's grandmother's for the afternoon/early evening. Usually, I am stuck there until the never-ending poker game is complete, but this year, I got to leave after dinner because Ken is staying in NY until Saturday and I am not. I really enjoy seeing Ken's cousins and their spouses, but again, I was glad to escape to the quiet of my car.
After spending 3 hours driving home (damn you, Belt Parkway!) I met up with Alia, Brian, and Brian's girlfriend Mandy at Friendly's, but not before going to the wrong Friendly's. Who knew that there were two Friendly's within ten minutes of each other? Sadly, the Friendly's we went to was out of a bunch of ice cream (including vanilla and peanut butter cup!?!?!) so we had to make do. First world problem if there ever was one, haha. The rest of the night, Alia and I hung out on the sofa and she helped me start a shawl that I bought yarn and a pattern for approximately 800 years ago. So far, it looks like this:
Someday, when it grows up, it will hopefully look like this:
Obviously, mine will not be that color, but you get the idea. Anyway, it's hard to imagine that I'll ever figure it all out, but thanks to Alia, I now can do a long tail cast on, have demystified chart reading, and understand how one uses a stitch marker. She also downloaded a free app to my phone for row and pattern repeat counting called County, and it's my new favorite thing. Knitting and technology? Hurrah!
So, that's happening. I also am still reading Dress Your Family in Corduroy and Denim and I just downloaded Crossed by Allie Condie... although I am having a hard time remembering what happened in Matched so I'm going to have to do a little Googling/Wikipedia-ing before I start Crossed. And yeah, Wikipedia-ing is totally a word now.
So, as part of wrapping up the end of the year, I've done this survey in the past on blogs of yesteryear. Let's see what I did in 2013 and what 2014 might hold...

1. What did you do in 2013 that you'd never done before?
Um... I got an A in my immunology class? I got diagnosed with RA? Those aren't very exciting. Oh! I went to California on our honeymoon and we went to Napa and San Francisco and Monterey and drove the Pacific Coast Highway and it was lovely. I also went to the San Diego Zoo and saw a panda (along with many other animals, of course).
2. Did you keep your New Year's resolutions, and will you make more for next year?
I don't think I even made New Year's Resolutions last year... but I usually say I'm going to go to the gym and lose weight... neither of which happen on any kind of consistent basis. So, yes, I'm going to make that same resolution again. Oh, and I'm resolving to actively put money into a savings account every week. I think I'm going to go with the 52 Week Money Challenge. I'll let you know how it goes!
3. Did anyone close to you give birth?
Yes! My friend Jen and her husband Kieh welcomed a little girl on September 3rd. Her name is Fiora Sage and I am obsessed with her. Someday, I'll finish the never-ending baby blanket that I started for her in July. Whoops.
4. Did anyone close to you die?
Thankfully, no. Although my Grandma is on a ventilator in FL and we're not sure how that's going to go... but hopefully she'll make it. Yikes.
5. What countries did you visit?
Just the US. Because I'm boring.
6. What would you like to have in 2014 that you lacked in 2013?
Money/financial security. More organization. Less anxiety. An acceptance to medical school!
7. What date from 2013 will remain etched upon your memory, and why?
Our entire honeymoon was pretty amazing... so August 17th-24th. It was so great to get away on a real vacation and spend time with Ken, and seeing the coastline in Big Sur was unreal.

8. What was your biggest achievement of the year?
Retaking my MCAT and improving my score by 4 points, reapplying to medical school, and taking 3 courses while working full time without walking into traffic.
9. What was your biggest failure?
I guess it's not really a failure but I didn't save as much money as I wanted to and I didn't lose the weight that I wanted to lose.
10. Did you suffer illness or injury?
Always, haha. I was officially diagnosed with RA in March, so I've been dealing with getting the right treatment for that. Also, horrible, disabling migraines struck over the summer, but hopefully they'll be remedied in January by the trigger point injections that I'll be starting. And of course, the usual bumps, bruises, burns, smacking into things, etc that comes with being a gigantic spaz occurred.
11. What was the best thing you bought?
My new Galaxy S4! Best Black Friday deal ever. Runners up: New clothes that don't suck, Miss Jessie's "Quick Curls", yarn.
12. Whose behavior merited celebration?
Lots of people. Levi, Ken, Julie, Victoria, Emily, Sarah, Kristin (my office mate), Kristin (my non-office mate), the Immunology ladies (Lakshmi, Gabriella, Devika, and Medha), and my therapist, Danna... just to name a few.
13. Whose behavior made you appalled and depressed?
So many people. There was a friend I lost after being honest, but never really heard it from her that that was why she stopped talking to me... but that was just more depressing than appalling. People on a daily basis appall me with their poor life decisions, but hey... what can I do about that? Exactly nothing. Oh well.
14. Where did most of your money go?
Rent, bills, commuting, food. And therapy, probably.
15. What did you get really, really, really excited about?
My MCAT score! And also getting an interview at my first choice med school. January 24th, it's happening!!
16. What songs will always remind you of 2013?
The entirety of The Blessed Unrest and The Last of the Great Pretenders, pretty much.

17. Compared to this time last year, are you:
i. Happier or sadder? Depends on the day.
ii. Thinner or fatter? The same. I WISH I were thinner but I always wish that.
iii. Richer or poorer? About the same... but more credit cards are paid off!
18. What do you wish you'd done more of?
Sleeping, reading, exercising.
19. What do you wish you'd done less of?
Studying until 4 am, crying, worrying about things over which I have absolutely no control.
20. How will you be spending Christmas?
Well, that already happened. See above.
21. How will you be spending New Years?
Victoria and Vinny are having us over again for dinner (as they did last year) and we'll probably drink wine and eat delicious food (V is making pierogies and kielbasa and cabbage rolls!) and we'll watch the ball drop and possibly play some games. Low key and fun.
Side note: Apparently, "pierogies" isn't a word, and my computer wants to change it to "groupies". Whatever, I'm a pierogie groupie.
22. Did you fall in love in 2013?
Still in it!
23. How many one-night stands?
Zero.
24. What were your favorite TV programs?
American Horror Story: Coven, Two Broke Girls, The Blacklist, Criminal Minds, Project Runway, Top Chef... and random things on The Food Network.

25. Do you hate anyone now that you didn't hate this time last year?
I don't hate anyone, really. I tend to save my hatred for inanimate objects.

26. What was the best book you read?I didn't read nearly as much as I wanted to this year. I really enjoyed Ender's Game and Gone Girl, though.
27. What was your greatest musical discovery?
I don't think I really discovered anything new this year. Hm.
28. What did you want and get?
A higher MCAT score and a med school interview.
29. What did you want and not get?
A bigger raise.
30. What was your favorite film of this year?
Now you're going to make me remember what movies I saw this year? I don't even know. Catching Fire was really good. Ender's Game was decent. I think that's all that was worth remembering, haha.
31. What did you do on your birthday, and how old were you?
I turned 27 in 2013 and I don't think I did anything. Wow, that's boring.
32. What one thing would have made your year immeasurably more satisfying?
More money, less anxiety.
33. How would you describe your personal fashion concept in 2013?
Last year, I wrote "
What's clean and moderately fashionable that fits? I'll wear that." That's mostly still true, although I tried to dress like more of a "grown up" at work. I'm still on the quest to find the perfect pair of jeans.
34. What kept you sane?
Ken, books, coffee, friends, my brother, sleep, and above all, my therapist.
35. Which celebrity/public figure did you fancy the most?
Um... I didn't?
36. What political issue stirred you the most?
Same as last year... healthcare reform and marriage equality!
37. Who did you miss?
My dad. Sarah. Emily.
38. Who was the best new person you met?
The girls I met in class this semester were awesome... Gabriella, Devika, Lakshmi, Medha, and Mary definitely got me through this semester.
39. Tell us a valuable life lesson you learned in 2013.
Sometimes, people don't make sense. You can't stop them from being ridiculous.
40. Quote a song lyric that sums up your year.
"My life's a movie, my whole life's a movie, if movies made you want to jump off a bridge..."
In 2014...
1. Will you be looking for a new job?
Probably not, unless you count med school as a job.
2. Will you be looking for a new relationship?
Nope.
3. New house?
Hopefully not! We like our condo and we don't want to move. The only reason we'd have to move is if I get into med school far away... so I guess we'll see?
4. What will you do differently in 2014?
I'll try to be more patient... and less anxious.
5. New Years resolution?
As per usual, lose weight, exercise more, freak out less.
6. What will you not be doing in 2014?
Haha last year, I wrote this, "
Well, there are a LOT of things I won't be doing... like selling a kidney, having a baby, singing in an opera, going to Australia...? More specifically, I will not be planning a wedding, which is AWESOME." I'm still not doing any of those things. And many other things as well.
7. Any trips planned?
One to NC for my friend's wedding (in which I am the best "man" haha) and other than that... nothing set yet.
8. Wedding plans?
Not for us!
9. Major thing(s) on your calendar?
Med school interview: January 24th!
10. What can't you wait for?
To start med school.
11. What would you like to see happen differently?
Less anxiety, more productivity, for sure.
12. What about yourself will you be changing?
I hope to... weigh less. And worry less. There's always work to be done!
13. What happened in 2013 that you didn't think would ever happen?
Um... I reapplied to med school and got an interview at my first-choice school!
14. Will you be nicer to the people you care about?
Doesn't everyone try to do that?
15. Will you dress differently this year than you did in 2013?
Not really. I tried to dress more like a grown-up, but that didn't always work out.
16. Will you start or quit drinking?
I don't drink much as it is, and since I started the methotrexate, I try to drink even less. I'll probably still have the occasional glass of wine or cider.
17. Will you better your relationship with your family?
I'll always try to do that.
18. Will you do charity work?
I'd like to!
19. Will you go to bars?
Probably
20. Will you be nice to people you don't know?
I usually am!
21. Do you expect 2014 to be a good year for you?
I have a cautiously optimistic outlook.
22. How much did you change from this time last year till now?
I'm always learning and trying to better myself... I don't think I changed a lot but there have been some changes.
23. Do you plan on having a child?
Not this year! Maybe.... in a couple of years.
24. Will you still be friends with the same people you are friends with now?
I hope so!
25. Major lifestyle changes?
If I go back to med school, that will be a completely ridiculous lifestyle change... but I think I'm ready. Other than that, probably nothing too crazy.

26. Will you be moving?
Not sure. Depends on med school.

27. What will you make sure doesn't happen in 2014 that happened in 2013?
I'll try to freak out less... but I can't really ensure that that will happen.
28. What are your New Years Eve plans?
Dinner with friends at a friend's house, wine, champagne, hanging out.
29. Will you have someone to kiss at midnight?
Yep!
30. One wish for 2014?
To know where I'm going and to get on my way there.