Holy hell, it's the end of 2013. How did we get here? Where did the time go? What did I spend the last year doing? Where are we going?
(Answers: Generally by car, I have no idea, mostly working, pretending to work, sleeping, studying, or wishing I was sleeping, and 2014, I guess.)
I'm going to be linking up with Amanda over at
The Lady Okie
for Dear 2013, so look for that coming up before the ball drops! If you'd like to link-up, head on over to Amanda's blog and grab the html for the button. :)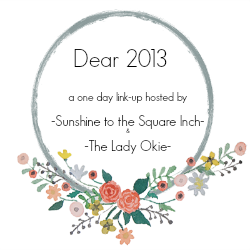 BEFORE I write my farewell letter to 2013, though, I thought I'd revisit the most popular post from 2013.
1. Apparently, a lot of you really wanted to talk about this, because
"My Husband is Not My Best Friend"
was the #1 viewed post of the 2013. If your spouse is your best friend, that's great! If they're not... that's okay too. I promise.
2. I'm going to blame this one entirely on Tina Fey being awesome. This was a post that was 4 weeks out from my MCAT and I was all about
getting stuff done
.
3. And this is why I need to do more link-ups with other fabulous bloggers! My link-up about
spending $500 of imaginary money
at Target was a hit. Glad to know you all love Target as much as I do!
4. Sometimes, I'm sappy and I write
sentimental posts about my wedding
. Apparently, that's okay with you guys. I also think the picture of the cool chicken definitely helped this views on this one, haha.
5. I don't know where you are, but someone out there, my people exist. The number one searched term that brings people to this blog: drama llama. Other phrases about llamas totally dominate the SEO part of my analytics. Glad to know that someone loves llamas as much as I do. My post about
yelling at llamas
was also a big hit. Thanks, you llama loving readers!
6. The only "Wonderful Stuff Wednesday" post to make it into the top ten was basically written by my friend Michelle. She's an internal medicine resident and she's also hysterical.
And very bus
y.
7. Again, sometimes I'm sappy and I write
love letters to my best friends
. This was part of Blogtember, which was a fun exercise in which I (didn't really) blog every day, but I tried. Valiantly. Sort of.
8. I have no reason for why this was a top-viewed post, but I'm glad you all wanted to read an
update about my life
. Thanks for showing that you care, even when I'm just writing about school and work and being a ball of stress.
9. The Thankful Project!
Day 1 of the project
was to write about someone for whom I was thankful, and I picked my therapist. This was a fun link-up to do, and it was definitely nice to reflect on the positive things that I could be thankful for at a time when I was pretty stressed out.
10. Sometimes, we need to laugh, and sometimes, we need to laugh at someone who's
afraid of a dead bug
at 2 am.
I hope that you're all having a lovely holiday! Merry Christmas and Happy New Year!
Love,
A