You know, I think we should petition whoever is in charge for a permanent change to 3 day weekends. I don't know about you, but I can
always
use a third day before going back to work. Even though I didn't have a ton of plans this weekend, it still was pretty full, and I wish that I had a day to just lay around and do nothing while wearing pajama pants. To be fair, I spent part of Sunday in pajama pants, but not nearly enough time for my liking. All in all, it was a nice weekend to cap off a busy week. What all happened last week, anyway? I thought you'd never ask! Once again, linking up with
Rachael
and
Lisa
for the Weekly Wrap-Up!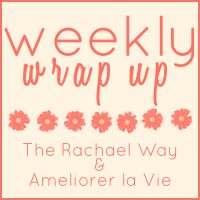 Well. Last week started off wonderfully on
Monday
with a dinner date with Ken! We went to The Melting Pot in Philadelphia before heading over to The Forrest Theater to see Eddie Izzard. I bought us tickets to see the show for our 5 year date-iversary, and I had been looking forward to it ever since we exchanged gifts in March! Dinner was lovely, although we filled up on cheese and salad, so we didn't even get to eat dessert! We promised ourselves that we'd come back soon to rectify this horrible oversight. We also got a $10 gift certificate from the restaurant because we were celebrating our anniversary!
Pre-cheese coma. Mmmm, cheese.
A random stranger volunteered to take our picture in front of the theater. We're cute.
Two thumbs up for Eddie Izzard!
Bathed in blue light from the stage! Also, super excited!
The show was great, and while we enjoyed the performance he gave at Madison Square Garden in 2010
slightly
more, we were so glad that we got to see him again. Our relationship pretty much started with Eddie Izzard (we watched some of his stand-up on our first date) and we quote him all the time. It was definitely a sweet way to commemorate 5 years together!
Also, I ran into one of my favorite professors from undergrad at the theater! It was totally random, but really fun, and we promised to get together for coffee. To add to the fun, my friend Julie and her friend were also at the show, so we hung out with them during intermission. Good times had by all. We didn't get home until almost 11:30, and once again, it was confirmed that we are really old and lame, because we were exhausted and miserable the next morning when we got up for work.
Tuesday.
.. I don't remember doing anything spectacular. I saw my therapist, which is always good, but other than that, I'm pretty sure I just went to work and then went home. We were supposed to meet with the mortgage broker, but since we hadn't heard back from the sellers about what they were planning to do with the repairs to the house, we canceled it. I also had a major allergy problem on Tuesday and felt like the inside of my face itched. It was unpleasant, and I shudder to think about how bad I would feel if I wasn't on 2 prescriptions for allergies already. Eek.
On
Wednesday
, we decided that we definitely weren't buying the house that is full of squirrels, and I sent a list of 8 other properties that we were interested in seeing to our realtor. Incidentally, we also found out that the house we were no longer buying did not have a radon problem, which I guess is good, but also surprising, given how many issues this house seems to have. I also got the updated schedule for the summer program for Rowan, and neurotically updated my Google calendar to reflect the changes. I can't wait to get a new planner for the school year! #totalnerd
Thursday,
I spent the morning getting 40 lidocaine injections into trigger points in my neck, shoulder, and underarm. It was a joy. Actually, it's really not that bad and my neurologist is excellent. We talked about how the trigger points under my arm are probably aggravating the ones in my neck, and that if we can't shut down the ones under my arm, my neck will never fully heal. We're going to try two more sessions of injections (one next week, one two weeks after that), and see how the pain and headaches respond. If there isn't an adequate response, he wants me to try Botox under the arm for longer-term relief. Of course, my insurance doesn't cover Botox, so I'll have to pay out of pocket. YAY. Also, it weirds me out that I would voluntarily inject myself with botulinum toxin, the most toxic substance known to man. Sign me up! In fact, I'll pay hundreds of dollars for it! (Medicine is weird.)
Also on Thursday, I interviewed the first candidate we were considering as my replacement. It was very strange, but the interview went well, I think. It was my first time interviewing someone, so I was definitely kind of winging it. We were supposed to interview a second candidate, but she already took another position, so we're back to looking for more people to interview. I just hope the girl I was interviewing didn't look at my injection sites all over my neck and shoulder and think that I had some weirdo drug habit. Should have worn a scarf, perhaps. Oh well. After that, Thursday was pretty uneventful.
Friday
finally arrived and it was a pretty normal day. After work, I saw my rheumatologist and had some blood drawn. As expected, he wants me to stay on the Orencia (which may or may not be working as well as we'd like) for another 8 weeks. He's also not sure if I have RA or lupus, since my bloodwork, while abnormal, doesn't clearly point to either diagnosis. It doesn't
really
matter because we're treating the symptoms the best way we know how, but the next drug he wants me to try is Benlysta, which is only approved for lupus. I have to read some studies and see how I feel about the drug itself. Autoimmune disease sucks, you guys.
After the doctor's appointment, Ken and I met with our realtor to see a house that we had seen prior to putting an offer on the one that's full of squirrels. We liked it, but wanted to see it a second time. The house is in great shape, has a full finished basement, and has a cute little deck. It's only been owned by one couple, and they are only selling it because they are 93 and just went into a nursing home. There isn't any thing particularly
wrong
with the house, but it's decorated like it's been owned by the same people for 20+ years, and every room is a study in rose and seafoam green. Again, paint and carpet are changeable, but... ugh, every room. It also turns out that it's more than we want to be paying per month, so we've taken it out of the running for now. By the time we got out of there, it was almost 9 pm and Ken and I were starving, so we stopped to get Chinese food from our favorite place and then headed home. I spent the night in excruciating back pain, which was super fun, but somehow, I got to sleep. Thank God.
On
Saturday
, I woke up and headed to my primary care physician's office, because apparently, I like to see as many doctors as I can in a 72 hour period of time. This was just for a check-up, and fortunately, my back issues had resolved themselves by that time as well. My labs all looked good, and I was sent on my way with instructions to come back in 4 months. I also made an appointment for next week because I need to get a physical and a bunch of immunizations for med school. WEIRD.
After I got home, Ken and I headed back out to see 3 more houses with our realtor, one of which we had seen before. Two were 3 bedroom, 2.5 bathroom townhomes (exact same model in the same development), and one was a 2 bedroom, 2.5 bathroom townhome near where we are currently living. We like all three, but would prefer one of the 3 bedroom homes. Once we were done house hunting, I dropped Ken off at the train station so he could head up to NY to visit a friend, and then I waited for my friend Patricia to come over to NJ from Philly. While I was waiting, I spent 2 hours talking to one of my best friends from college who now lives in Kentucky where she is doing her residency. We don't get to talk very frequently these days, so having a whole two hours to catch up was
lovely.
Even better, I get to see her in a little over 2 weeks when she comes to stay with her parents who are renting a house in Avalon for a week. SO EXCITED!!!
The rest of Saturday was spent frolicking around the mall with Patricia. I finally found a pair of jeans that fits and doesn't require hemming, and the best part was that they're a size that I haven't worn in approximately 300 years. Oh, it also was pretty awesome that they were 50% off. I also picked up a pair of shoes on clearance at DSW. Winning all around, I say. That night, Patricia and I met up with my sister-in-law, Lynn, for dinner, and then Lynn spent the night.
Sunday
morning, Lynn left at the crack of dawn to have breakfast with a friend in Philadelphia and I blissfully slept in until almost noon. After dragging myself out of bed, I successfully navigated Target
and
Wegman's on a weekend, on Mother's Day, no less. I was very proud of myself that I didn't die or commit a felony. The rest of the Sunday was spent baking a chocolate cake and prepping for dinner for that evening. My brother came over and we hung out while I baked and prepped, and he also picked Ken up from the train station, which was super helpful. My mom came over around 6:30 and we had a nice evening with good food, wine, and of course, chocolate cake!
Pre-frosted cakes. I was praying they wouldn't get stuck in the pans.
Hey look, I frosted a cake! With homemade buttercream!
And that, my friends, was the week. It ended with beautiful weather, friends, and chocolate cake, so I can't really complain! As for this week, I feel as though it's time to link up with Melyssa of
The Nectar Collective
for Weekly Wishes! Maybe I'll actually accomplish some of them this week!
The last time I wrote a weekly wishes post was
April 21st
, and I had wanted to get my blood work done, finish a book, pack before 11 pm the night before Ken and I were leaving for Kentucky (a trip on which I did not end up going), order my transcripts for medical school, and not commit any felonies. The good news is that I finally got that blood work done and I didn't commit any felonies! Other than that, I have totally struck out. C'est la vie.
This Week's Wishes
1. Order transcripts for medical school.
This seriously needs to happen. I might even do that today.
2. Get vaccination records transferred to primary care doctor's office.
If this doesn't happen, my appointment next week for my physical will be useless. This would be a lot easier if my old physician's office would actually fix their fax machine because it has been broken for well over a year now, it seems. I seriously hate faxing things anyway because I feel like if Netflix can deliver me an entire movie in HD VIA THE INTERNET that I should be able to email a record release to my physician, but CLEARLY that is IMPOSSIBLE. ::rage::
Okay, I'm done.
3. Take clothes to Plato's Closet or Buffalo Exchange.
Sell what I can, donate the rest to Good Will. I cannot live with these two, giant bags of clothes in my trunk forever.
4. Clean up the DVR.
This is a silly goal, but it's 90% full and that is just sad. Most of that is an entire season of The Walking Dead that we have yet to start watching, but... the rest needs to be gone through. Looks like I need to schedule some time with my TV! Darn.
5. Finish my scholarship applications!
This is do-or-die, because everything is due on Thursday or else I'm definitely not getting any money from these people! One more essay to go for the National Health Service Corps, and then one essay for the other scholarship that I'm applying for through Jewish Federation of Philadelphia. Come on, someone help me pay for med school!
***
So yes, that's about the long and the short of what's going on here. The only other thing that is newsworthy, albeit a bit sad, is that my mom had to put one of our dogs to sleep this morning. Zorro was 14 and was diagnosed with melanoma in his paw pad a couple of months ago. Since there was no good treatment for what was undoubtedly metastatic disease, we were keeping him comfortable for as long as we could. Over the weekend, he took a turn for the worse and my mom could tell that he was in a lot of pain. This morning, she made the hard decision to end his suffering. My heart breaks for her and for all pet-parents who have to make the same decision.
Rest in peace, little guy. We love you.
So, sorry to end on a sombre note, but I guess that's life. Hug your pets and your people a little tighter tonight, friends! And tell me about something fun and happy in the comments. :)
- A