I'm not sure if anyone has ever done a study on whether listening to hours of hold muzak has a negative effect on one's health, but over the past 5 days, I feel as though I have definitely exceeded whatever limit one would place on how many hours of muzak are considered safe for human consumption. Today I'm linking up with the new and improved Weekly Wrap Up, hosted by
Rachael
and
Lisa
! Head on over to their blog to link-up and see what everyone else did this past week!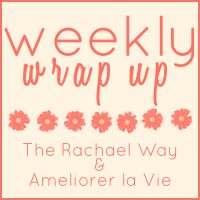 Last week was a big one for us! Monday and Tuesday was quiet on the blog because I was essentially up to my eyeballs in mortgage, work, and school nonsense. On Wednesday, I finally let the cat out of the bag that Ken and I are
starting on the road toward babies
, and gave the Reader's Digest Condensed Version of my litany of health issues. (Fun for all ages! Not really.) I also went over to see my piano students before they moved to Ithaca on Thursday. I'm going to miss them so much!
On Thursday, I
filled in the blanks
, and seriously considered throttling my mortgage broker and South Jersey Gas. The mortgage broker thing was eventually solved because I found the documentation they needed, despite the fact that 6 weeks ago when I asked if they needed this particular documentation, they said no. The only reason no one got punched in the face is that I didn't have to call my father, who is currently in Europe for the next three weeks, to get him to send me copies of his bank statements. South Jersey Gas was a more difficult issue to resolve, and in fact, is still being resolved.
I called to get the gas switched into our name, but first the guy couldn't find our address, which was hysterical because they already service that address. Then, they couldn't switch the gas into our name because apparently, there was a balance on the acct, so they told me to send them a contract or closing papers and a copy of my license. I emailed them that and contacted our realtor to tell her about the balance, and she replied that the balance had been paid off the week prior and gave me the account number. I then called back three separate times and SJ Gas said that they hadn't received the papers that I emailed them, and then they finally did, but said that the balance was definitely on the account and that the gas had been turned off. I told them that they were wrong because people were still living in the house and I had seen the gas functioning (as the fireplace is gas and it turned on quite nicely). They told me that someone had to come out on Monday (today) to turn on the gas (that is already on) and that the service tech would call me 15 minutes prior to arriving at the home. I said, "Well, he's going to have to give me a little more time than that, seeing as my husband and I both work like normal people during the day and aren't living int he house at this moment in time." So then he said he could give me a range of times from either 7:30 am to noon, or noon to 11 pm and I said, "That really doesn't solve my problem, genius."
I said to put a request in for after 5 pm on Monday, but also added that this entire thing was pointless because the gas wasn't actually off, so I still wasn't sure why we were having this conversation. Somewhere during this mess, I had tweeted to SJ Gas that it was absurd that no one knew wtf was going on with this acct and someone DM'd me back and said they'd have customer service call me. So, after I finished arguing with this guy over whether the gas was on, he asked if there was anything else he could do and I said that he could make this situation less stupid and actually know what was going on, but that obviously wasn't going to happen, so no, and hung up the phone. Not 3 minutes later, customer service called and I recognized the number, so I answered and said, "If this is SJ Gas, what do you want?" and the poor girl was like, "I was told to call you,...?" I said, "Well, I already solved the problem, after much wailing and gnashing of teeth, and I am 100% sure that there is nothing you can do to fix the stupidity that I just had to endure, so I'm hanging up the phone." So that was most of my afternoon on Thursday.
On Friday, I had to call Comcast and wished that I could throw some booze in my coffee. I also talked about the insanity that is happening over the next month and filled out the
Blogmopolitan Quiz
that was hosted by
Erin
. I got to meet all kinds of new bloggers through her link-up!
Oh, also on Friday? Ken and I bought a house!
Pre-final walk-through selfie!
Post-settlement thumbs up!
The rest of the weekend was pretty busy. The rest of Friday was spent eating lunch and buying ALL THE PAINT!
Not pictured: 5 gallons of ceiling paint
And then Friday night, Ken went to NYC to visit his friend Liam who was in from Seattl. I spent the evening watching Hemlock Grove and trying not to go into anaphylaxis and die. Apparently, I'm way more allergic to carrots than I thought I was, so when I ate a dozen baby carrots with my dinner, my chest got really tight and I was wheezing and I couldn't find my inhaler. It was not good. I ended up popping a Benadryl and 20 mg of prednisone (such a wonder drug!) and I managed to survive. It was a very exciting evening, let me tell you.
On Saturday, I woke up early to meet the painters at the new house and get them started. We are having the three bedrooms painted upstairs, and downstairs we're having the dining room, kitchen, and half bathroom painted. My mom came over and brought me a set of octopus salt and pepper shakers, as well as my Peace Lily, which she was rehabilitating after it almost died under my care. Apparently, I did
not
get her gardening gene. So far, the plant seems pretty happy, so I am hoping I can keep him alive. After that, I went to The Pop Shop and met my friend Jackie for brunch. Can I just say that Cinnamon Bun French Toast should be available everywhere?
After the indulgent brunching, I picked up my friend Patricia from the train station and we headed back to the new house to celebrate!
Mazel tov!
My brother came over to the house to check it out, and the three of us went to Target afterwards. I dropped Patricia off to the train and then met my mom and brother for the world's latest dinner. Then I went home and did school work, because I know how to rock a Saturday evening, obviously.
On Sunday, I really wanted to sleep in but I had to get out of bed by 9:30 because our landlord was showing the condo to potential renters at10. I spent about 20 minutes in my car out in the parking lot, then found out that the landlord had booked a second showing at 11, so I ran back inside between showings and headed out to Starbucks. I claimed a table near an outlet so I could do work, and while I was in line, someone tried to steal it! Fortunately, the nice woman sitting at the table next to mine stopped the random dude from absconding with my table. I then had this conversation with my brother:
Me:
A random stranger saved my clearly claimed table from being stolen by a random dude while I was in line at Starbucks. Thanks, random stranger! +10 points for you. (Random dude? -10 points for you, sir.)
Levi:
Random dude, I demand you give your 10 points to thoughtful stranger.
If only it were that simple, right?
After my Starbucks excursion, during which I totally confused the barista with my order, I went up to East Falls to visit my friend Lauren, who is an OB/GYN resident. She works crazy hours, so I was really excited to grab some time to catch up. We went to the Plymouth Meeting Mall where I bought 2 dresses and a pair of pants from LOFT (once of the dresses is going back) and then we had lunch at Whole Foods. On my way home, I picked Ken up from the train station and then he and I went to the new house so he could see the paint and how things were looking. We discovered that our sofa is way bigger than we thought it was and I had a minor meltdown that we might have to sell our (intensely comfortable and amazing) sectional because it is comically large. However, we think we figured out a solution.
And don't worry, pictures will be posted as soon as I take them and we move in and I figure out if we have the internet (since Comcast and I seem to be speaking different languages). So yes, that was my week last week. I bought a house and didn't commit a felony, so overall, all good things. This week is my last week at work and they finally hired someone... who can't start until the middle of August.
Good luck with that one, guys.
I'll be back tomorrow for Listed Tuesdays... be sure to check it out!
- A