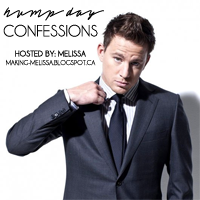 Hello, all of you beautiful people. Your hair
looks great today and I love that shirt. Sorry, I just figured everyone could use a compliment today, especially given how absolutely craptastic 2015 has been thus far. Anyway, since it's Wednesday, it's time to invite Mr. Channing Tatum back to the blog for Humpday Confessions!
I confess...
... I'm sitting here blogging while Ken makes dinner. He doesn't appear to need help, but I haven't even offered.
... I call Ken "the fuzzband" when he doesn't shave for a couple of days. I also shriek in mock-horror when he tries to kiss me or put his stubbly face near me.
... I should be studying right now, but I'm not. I have the rest of the night and all day tomorrow and Thursday. Whatever.
... I am still dealing with physical and emotional crap from this miscarriage and it's pissing me off and I hate it.
... I am really bad at folding that last load of laundry. All of the laundry gets done, and then the last load sits in a basket at the foot of our bed. Sometimes, it gets so wrinkly and full of cat hair that we have to wash it again. #adulting
... I was irrationally upset this morning when Rowan only had a delayed opening today instead of canceling class. It screwed up the entire schedule of our practical exams, which messed up my entire day.
... I also did a not-so-secret happy dance of joy when I realized that my community health assignment location was closed due to the snow.
... Last night, I dug into the first pint of Jeni's Ice Cream that my friend sent me. It's safe to say that I'm now obsessed.
I think this must be what they serve in heaven.
... I got
really
excited when Chris Rock mentioned Drexel University in his monologue during the 40th anniversary episode of SNL.
Post
by
The Triangle
... I am ashamed to say that I really enjoyed the Miley Cyrus performance of "Fifty Ways to Leave Your Lover," on the SNL 40th anniversary episode. She looked kind of amazing, especially her sparkly shoes, and I want to know which mascara she was wearing, so... you do you, Miley. (Although I will always have an unholy love of Paul Simon and still would have preferred to hear him perform his own song.)
And on that note, I'm going to go grab that pint of dark chocolate ice cream and get back to my studying cave. Don't forget to link up your own confession posts with
Melissa
!
- A